24.12.2007 - 26.12.2007
-6 °C
View Vogogna on indarto's travel map.
Have you ever visited country area in Italy? Probably yes, or you have already a experience staying there. If not, the country site near Alpens mountains could be the best choice to look at or to find how beautiful the scene is. One of the city that I have chanced to visit is Vogogna.
To reach Vogogna, you can use train go to the direction of Novara or Milano. From there, you can go also by train to the direction of Domodosolla, the end of the route. And Vogognya is located around 20 minutes before Domodosolla. Vogogna is the tipical city which is very silent, beautiful, and very fresh. Instead of natural side, this city also offers a historical site which quite old, the castle of vogogna and La Roca (castle on the mountain).
Vogogna is devided into two parts. The fist part of the city is located on the hill and another is in the lower part not in the mountain. The hilly part is quite very old, where the wall of the house and also the roof are made from the stone. But not many people live there mostly they stay in the lower part which connected to the main roads to the milano or novara or domodosolla. But, the buildings are very antique. Near the upper part, there is La Roca which is the castle built in 1000th.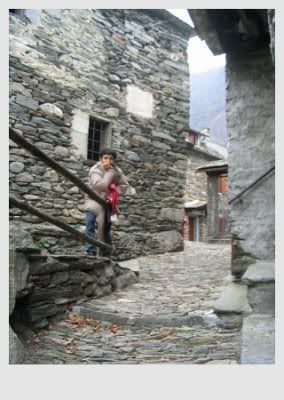 As the city is very quite don't hope you will find a cinema here. Just only 2 bars near the old part of the city. In the christmas, the have a short tradition to mimic the life of Arabs at the periode of Jesus Christ. This tradition is held after the christmas mass at night of 24th december when you walk to the castle of vogogna from the main church.
Posted by indarto 13:48 Archived in Italy Tagged tourist_sites