22.03.2008 - 22.03.2008

View Vacanza di Pasqua on indarto's travel map.
Actually, there is no problem to enter the catedral of Saint Peter in Vatican. Except to go up to the cupola, everything is free. You can go inside easily, just wait for queueing. But not during the holy days, like Easter (Pasqua). I have a very priceless experience to enter the catedral in that occusion. It was March 22, 2008 when we (I and 4 other indonesians) wanted to join Easter-eve mass. From the news it was mentioned that the mass will be started at 21.00 and the gate will be open at 19.30. As this is a special, the people already prepare, wait, in front of the gate from 17.30. Why people do lie that? it is because when you are able to enter first, you can chose the best seat which usually: (1) near to the altar and (2) near to the main coridor where the pope will walk enter the church or giving his bless.
During 2 hours wait for the gate open, it was like disaster. People push each other (but not hard push). Bu suddently you will forget about this, because the situation actually very nice. People shouting to great pope, or singing catholic songs, or natiaonal songs of country origin. Interesting, very interesting.
And when gate was open? You can imagine, people rush .. run as fast as possible to enter. Bust for sure, after the gate, you have still an inspection to check your properties free from dangerous things, such as knive, bom and so on. Woow, I have to run too as if you walk, people behind you will crush you, ha ha .. Don't pretend to be cool :-P by slow walking.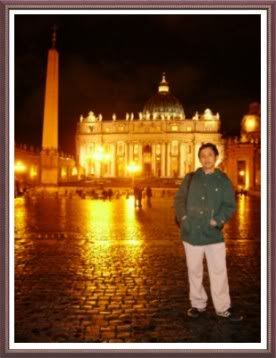 Anyway, remember that you have an ticket which allow you to join the mass but also there is a chance for you who don't have the ticket to enter as again many people rushing, running. In this case hopefully, they did not see you, just run!!
Posted by indarto 01:32 Archived in Italy Tagged tips_and_tricks