14.08.2007 - 15.08.2007

View Torino-Pisa-Firenze on indarto's travel map.
Those three names are not enough to mention the beauty of this city. It is not surprising that this city becomes one of UNESCO heritage and has its own name as the Athens of Middle age. Many famous and well-kown people came from this city and probably spent their life here, such as: Michelangelo, Leonardo da Vinci, and the genius Galileo Galilei. For the last person, the city made a special museum of his inventions which mostly made from wood. There are many beautiful and magnificent buidings located in this city. The main is the Duono (catedral) di Firenze. Very big until you can get all of the parts of the church in your one sheet photo paper.
I am prety sure that, if you are able to visit this city, one day is not enough. There are many places that you have to visit devided into three major parts: center of the town, river side, and hill side. In the center, there will be full of churches with big dome and one tall tower (as the charcteristic of chuches in Firenze), big old gate in piazza della Repubblica, and the Goverment building. Those can be reached easily as the places are close each other. In the river site, you will find one famous place: ponte di vecchio(vecchio bridge) that sell expensive jewelry and gold.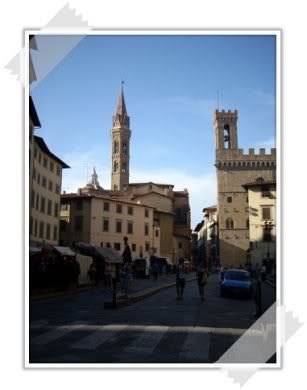 The city of Florence or citta' di Firenze, can be reached from Pisa only 1.5 hours by regional train. So, enjoy the viola of Florence ..
Posted by indarto 15:21 Archived in Italy Tagged tourist_sites Comments (0)