16.06.2007
Train in Italy is very cheap compared to other trains in other Europe countries. It is not surprising that train is usually used for the travel or trip. In Italy, almost every city has something special to see which will be a big mistake not to visit it.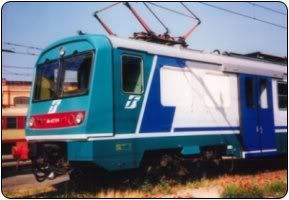 Using a single ticket, actually you will be able to visit many cities. For example, last time, I went to Bologna from Torino. During the way, I passed the city of Parma and Piacenza. I bought the ticket, direct standard 2nd class ticket, from Torino to Bologna that price was 16.10 euro (at that time). In the ticket, it was written 'vale 24h da convalida' means that it is valid 24 hour since we validate this ticket in the stamp machine (yellow box machine that will print the date of validation). So, during my trip, I droped in Parma, and going around for few hours and back to station continuing my trip to Bologna using the same ticket.
I was successful to do the same when I visited Milano. But for Torino-Milano ticket, the valid range is shorter only 6 hour. I dropped in Novara for 2 hours and continue to Milano using the next train.
Using this way, you can save a litle than buy multiple tickets, for example I bought ticket for direct Torino-Genova with 8.20 euro and when I buy Torino-Alessandria and Alessandria-Genova it costs 9.10 euro.
Posted by indarto 18:09 Archived in Italy Tagged tips_and_tricks Comments (0)