Skeleton 'calamita cosmica' of Milano
02.06.2007 - 02.06.2007

View Milano on indarto's travel map.
Super dupper big skeleton!! The name is calamita cosmita made by Italian artist Gino de Dominicis. It said that he made it to represent his mortality. But not such that big, I think. There are some rumors about this guy. One said that he disappeared and tell no one where he is. Other version said he died exactly on April Fool's day on age of 51. Anyway, it was fortune for me that I could make a picture in front of it. It is because (based on news) by May 1, it will be moved to other cities in Europe, such as Hamburg, Paris, Brussel.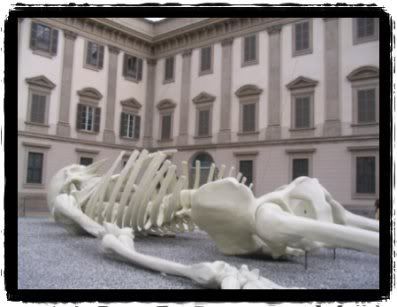 Calamita cosmica means cosmic magnet. Based on the story, the strange nose of this skeleton want to represent the meeting point between cosmic energy and human element. More than that, I can not say anything. Anyway, nice attraction as it was also located in the piazza duomo which is already famous place for tourism in Milano.
Posted by indarto 10:40 Archived in Italy Tagged tourist_sites Comments (0)